Acoustic guitars are a great musical instrument to use and many people enjoy them. But if you've decided that you're ready to give yours up, you may want to know how much you could get for it. Acoustic guitars are expensive, and you wouldn't want to just throw it away.
But deciding where to get rid of your instrument can be a challenge as well, there are a lot of options especially as the internet advances, but if you have your heart set on a pawn shop how can be sure they'll take it? Let's start answering these questions.
Do Pawn Shops Buy Acoustic Guitars?
Yes, it is very common for a pawn shop to buy acoustic guitars. It doesn't matter if it's new, gently used, or very used as long as it is still in good enough shape to sell and you can agree on a price that works for you and the pawn shop.
Musical instruments typically sell well at pawn shops due to the fact that they can cost a lot of money if you buy them from other places, and for this reason pawn shops are always looking to obtain new musical items to sell. You should have no problem selling your acoustic guitar there.
How Much Would A Pawn Shop Pay For A New Acoustic Guitar?
The harsh truth of this is that a pawn shop will not pay you as much for a new acoustic guitar as you paid for that new acoustic guitar. Pawn shops aren't focused on you gaining a profit, they only need to make sure that they make a profit.
A pawn shop will likely pay $50 for a beginner acoustic guitar, $200-$300 for a medium-level acoustic guitar, and $600-$700 for a high-end acoustic guitar.
So in short, they won't pay you market value for your acoustic guitar, even if it's new and in perfect shape. This simply is not how pawn shops work. But this doesn't mean that you'll have to sell your guitar for next to nothing.
The more your acoustic guitar is worth, the more it will sell for at a pawn shop. There are a lot of factors that go into deciding how much an acoustic guitar is worth, such as model, brand, class, material, and other things.
One of the most important variables to consider is the class that the guitar is in. Whether or not it's meant for professionals or beginners, here's a table of the approximate values of acoustic guitars from different classes.
| | | |
| --- | --- | --- |
| Acoustic Guitars Level | Market Value (Low End) | Market Value (High End) |
| Beginner | $100 | $500 |
| Intermediate | $500 | $1,500 |
| Pro | $1,500 | $10,000 |
You should also look at the back of the acoustic guitar and take note of the serial number. If you search up the serial number online then you should be able to find approximately how much the guitar is worth.
How Much Would A Pawn Shop Pay For A Used Acoustic Guitar?
Estimating the amount that a used acoustic guitar would sell for is even harder than estimating the price of a new one. This is because in addition to all of the variables that were listed above, there are now new ones as well.
Even with all of these variables though, there is a general rule that will give you a very basic idea of how much your used acoustic guitar is worth. Typically a used guitar will sell for about 50-60% of its market value.
So that means that if you can figure out your guitar's market value, or if you know it already then you calculate about how much you can expect to get. Just keep in mind that the price you sell it for will probably be less than that because the pawn shop owner still needs to make a profit.
And the most reliable way to find out how much a pawn shop will pay for a used item is to go to one and ask them for an estimate yourself. Most pawn shops will offer around the same prices, so what one offers probably won't be too different from what others will offer.
What Factors Go Into Valuing A Used Acoustic Guitar?
The usual things that you'd consider when buying a used item are the same things that a pawn shop owner or anyone else looking to buy your item would consider. So think about things that would add or lessen an item's value when you're estimating the value of your guitar.
Think about things such as how clean the acoustic guitar is, if you're selling any sort of accessories such as guitar picks with it, if it has any damage, if it looks brand new, etc.
And then after you consider all of these things, you can raise the potential value of the acoustic guitar you want to sell by improving on any issues it might have. Clean it up if it's dirty, locate a few accessories to go with it, fix any damage if you can, and overall just spruce it up a bit.
How Much Would An Acoustic Guitar Sell For Online?
Even though selling acoustic guitars is much easier at a pawn shop, some people will still choose or at least consider selling their items somewhere else.
Cheap acoustic guitars are typically worth $50 at pawn shops or on eBay, and $60 on Facebook Marketplace. The value of beginner acoustic guitars at pawnshops is about the same as online stores, but you can typically sell them higher online for pro-grade acoustic guitars.
Selling used items online has been getting more and more popular but it's not as easy to sell things there as it is at a pawn shop, and you also won't be able to get cash for your item as quickly.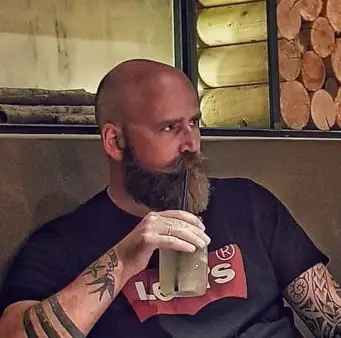 Thomas Boseman is the author of Pawnbroking.com. A pawn shop owner by day, blog writer by night. When not writing, he enjoys exploring the outdoors with his dog, Roman. Thomas received his bachelor of arts in film from the University of Arizona. A Brooklyn native, Thomas is a lover of filmmaking, motorcycle, and coffee.