It's no surprise that people have been wearing gold pendants since the dawn of time. In fact, in 1700 B.C., archaeologists discovered gold pendants and other gold jewelry components in Babylon. Even more perplexing, ancient jewelers kept gold jewelry around for decades in case they were required to repair it.
Some individuals are unaware of the many various forms and applications that gold pendants have. The connection between gold chains and rappers, athletes, and New York socialites is well-known, yet hip-hop culture now affects high-end fashion as effectively as conventional style.
Whether you're shopping for the first time or just want to know how to pick a gold pendant that will complement your other gold chains, we've put together a resource on buying gold pendants with advice on saving money.
What Type Of Gold Pendants Do You Want?
You can choose from a variety of precious metals, including real gold and gold-plated. We propose buying a genuine gold pendant.
Gold-plated jewelry is less expensive, and in certain situations, it may be a good alternative. Gold-plated jewelry, on the other hand, is not regarded as genuine gold. It appears to be lovely at first, but it is prone to wear and tarnish over time. You will have to pay to have your gold pendant re-plated over time.
Gold (10k and up) is more durable and a better option for daily wear. Gold-plated Pendants also have limited resale value. You may always resell real gold for at least its scrap value, making it both a beautiful item of jewelry and investment with the potential to appreciate in value.
Solid and hollow pendants are also available. Hollow pendants are lighter and less expensive, but they're less durable and more likely to get dented. If you snap the chain, it might be difficult to repair it. As a result, in most situations, it's easier to buy new chains.
Tips To Buy A Gold Pendant
There are multiple important points to consider before purchasing a gold pendant, such as if the chain is solid gold, how many karats it is, and what sort of links the chain is composed of. Let's look at the most crucial features to consider when purchasing a gold chain.
Is The Gold Pendant Solid, Plated, Or Hollow?
One of the most crucial issues to consider when evaluating a gold pendant is whether it is made of real solid gold or just gold plated.
Gold chains in the plated form are less expensive and will wear off after a while, revealing the metal beneath and necessitating a chain resplendence if you wish to preserve the color.
If you intend to wear your chain every day, solid gold is the way to go. Some gold chains are hollowed out – you'll notice that they feel significantly lighter than solid pieces of comparable size.
Hollow chains are less costly, but they have a potential drawback: These chains are rather easy to break or dent, and if this happens, it is virtually impossible to restore.
Inspect The Clasp
Check to see that the clasp of your gold pendant is secure and difficult to break. A lobster clasp is a fantastic option because it is strong and does not open easily if you pull your chain harder.
Many chains feature a spring-loaded ring clasp, which is less expensive but tends to be thinner and less secure than the lobster clasp.
Choosing Karat For Your Gold Pendant
When it comes to determining what karat your gold chain one should keep in mind that the more purity of your gold, the softer and less durable it might be.
If you intend to wear your chain every day, choosing a heavier piece is not recommended. If you choose a 10Kt or 14Kt chain, for example, it will scratch more readily than a 20Kt or 22Kt chain that contains a higher percentage of non-gold alloys because they are harder.
Although low-karat gold is more resilient, it is not suggested if you are nickel sensitive because many gold alloys include this element.
10Kt gold is not recommended because it may cause an allergic reaction. If you are unsure if 10Kt gold contains nickel, do not buy it. Instead, choose 14Kt or 18Kt gold. (Please note that 14Kt gold might still induce a negative response in individuals with sensitive nickel allergies.)
Check If The Pendant Is Smooth
Another thing to consider about gold chains is the surface: make sure it's free of scratches and it should be smooth.
Although this may not seem like a significant issue, if the chain is harsh and you wear it for many hours, it will irritate your skin. Run your fingers down the chain to ensure there are no jagged pieces that might scratch your skin or catch on your clothing.
Picking The Link Type
The sort of link you pick for your gold chain will influence how easily it kinks and whether it is prone to break. Flat chains, such as the omega chain and herringbone chain, are more susceptible to curling.
The round snake chain is another type of link that you should avoid. Because these chains are more likely to catch on your clothing and twist, a kinked necklace may be quite difficult or even impossible to repair.
It's also crucial to pick at what length the links should be, and this is dependent not just on your personal style, but also on whether you'll be wearing a pendant. If you're putting a charm on your gold chain, make sure it can support the extra strain.
The box chain and wheat chain are two of the greatest options for a chain link style: They're both strong (if you want to hang a pendant on them) and quite flexible.
The Figaro chain, the mariner chain, the anchor chain, the curb chain, and the rope chain are just a few examples of excellent link possibilities.
Where To Purchase A Gold Pendant?
If you're shopping for a gold chain, we recommend that you check online at Amazon since they have an excellent selection.
To know more about How Much Do Gold Pendants Cost At A Pawn Shop click here.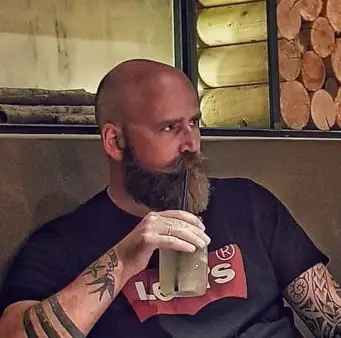 Thomas Boseman is the author of Pawnbroking.com. A pawn shop owner by day, blog writer by night. When not writing, he enjoys exploring the outdoors with his dog, Roman. Thomas received his bachelor of arts in film from the University of Arizona. A Brooklyn native, Thomas is a lover of filmmaking, motorcycle, and coffee.