A perfect ring should slide onto your finger without too much resistance and then pull away cleanly. If you feel like the ring is sticking to your finger or sliding up and down unnecessarily then resizing the ring by a jeweler is the option.
Wear your ring for a few days before going to the jeweler's to get an idea of how it feels over time.
Your fingers will expand and shrink throughout the day depending on the weather, so you may discover that it is perfect in the morning but too tight at night.
Resizing a ring is usually rather inexpensive, costing between $50 and $100 less than the cost of a permanently ill-fitting ring that falls off your finger.
Some jewelers may even perform free resizing, especially for engagement rings bought through them.
What Is Ring Resizing?
Resizing is a process that involves removing or altering a portion of a ring to fit a larger or smaller finger by modifying a ring's diameter. If you've gained or lost weight, it's possible that your ring will fit more comfortably and securely once again.
It's an excellent choice for rings like weddings and engagement rings that are worn for a long time.
We don't stay identical in size our entire life, but we want to wear our rings because they are symbols of a life-long commitment.
In other words, a person might want to wear a treasured ring on a different finger. A wedding band may move to the right hand if a spouse passes away and the surviving partner remarries.
Alternatively, new jewelry may look better on the finger currently worn by a cherished ring.
Resize a Ring to be Smaller
When you want to make a ring smaller, the jeweler will remove a chunk of the band. Re-form it into a flawless circle, and then solder it back together.
Then the jeweler will clean it and polish it. Don't be concerned: When the procedure is completed, there will be no indication that the ring has been sliced.
It will appear to be the same, but it will feel tighter. The less complicated the band, the better this procedure goes.
Resize a Ring to be Bigger
Making a ring larger is more difficult than shrinking it. The metal must be stretched, which may only be done up to half a size larger. If you need it to be bigger than that, the jeweler will cut the band and add an extra piece of metal before soldering, cleaning, and polishing it.
Bands with fewer elements are simpler to make larger than complicated bands. If your ring has channel settings, for example, you may need to shift the stones while resizing it.
How Much Time Does It Take To Resize Your Ring?
A jeweler can do the resizing of an engagement ring in just two hours, though it can take up to a month depending on the complexity of the setting.
For a basic ring with no gemstones, the resizing procedure may be much quicker. If your jeweler only needs to stretch your ring by a quarter of size or less, it may take just a few minutes for them to accomplish it.
Cost Of Resizing Ring
Resizing a ring costs from $20 to $60 depending on the type of metal used and the region of the country. On the other hand, a more complex resizing can cost up to $150.
Most jewelers provide a free resizing service when you buy your ring. Some major jewelry retailers, including Jared and Kay Jewelers, offer complimentary resizing as part of the warranty on their rings.
The cost of resizing a ring using a third party jeweler can differ based on a number of variables, including:
The thickness and design of the band – The thicker the ring, the more difficult it is to resize, so you may be required to pay a little more if your ring has a rather thick band.
The ring's material – Ring resizing is not as simple as it appears. Titanium, for example, is really tough to stretch. As a result, you may have to spend a little extra money to have your ring adjusted since doing so takes longer than usual.  
The style of the ring – It's typically more difficult to resize a ring with intricate designs than a basic solitaire diamond ring. This implies that if your ring contains several gemstones or complicated ornamentation, you may have to pay somewhat more for resizing.
The jeweler you choose – The cost of having a ring resized varies based on the jeweler you use, their expertise, and the area.
Types Of Metal That Can Be Resized
When a ring is resized, the most desirable metals are platinum, gold, and silver. These are because jewelers can bend and mold platinum, gold, and silver during the resizing procedure.
Titanium, tungsten carbide, and stainless steel are not resizable by jewelers. Because jewelers struggle to work with difficult metals like titanium and stainless steel. They will frequently decline to resize rings made of these materials. Tungsten is a hard metal that can't be resized because of its hardness.
If your eternity band is too big or small, it's unlikely to be resized. To expand or reduce the width of an eternity band. A jeweler may try adding or taking away metal from the inside of the ring to increase or decrease its size.
Eternity rings have a stone that goes all the way around the band. Because there is no metal to work with, the ring cannot be cut to add or remove the band's length to make it larger or smaller. This leaves eternity bands with a very limited range of options for resizing.  A jeweler will do everything in their power to ensure that nothing appears altered when the ring is resized, but it isn't always feasible. If your hallmarks are damaged and you can't show a designer ring, jewelry is an exceptionally poor investment.
To learn more about the cost of resizing a ring click here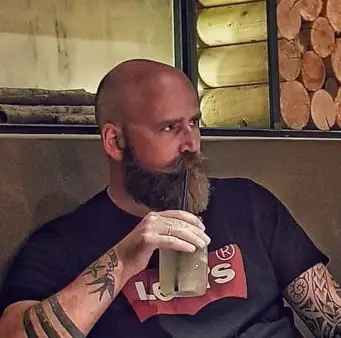 Thomas Boseman is the author of Pawnbroking.com. A pawn shop owner by day, blog writer by night. When not writing, he enjoys exploring the outdoors with his dog, Roman. Thomas received his bachelor of arts in film from the University of Arizona. A Brooklyn native, Thomas is a lover of filmmaking, motorcycle, and coffee.