If you want to feel as though you truly own the house as soon as you walk in, a chain of diamonds around the neck is essential. A chain provides self-assurance and conveys the impression that you know exactly what you're doing, no matter what type of clothes you're wearing.
The Cuban chain is one of the most popular chain types, although it's not the only one. These are variations of the standard link chain that feature ovular links that intersect in a rope design. This is probably what you picture when you hear the term "chain necklace."
Do you want to acquire a Cuban link for yourself? Before you spend more money than necessary, there are a few things you should think about. But don't worry, we're here to assist.
What Are Cuban Link Chains Made Of?
Gold is the most frequent metal used to make Cuban links, although they may also be produced from a variety of metals, including silver, platinum, etc. With gold being the most popular, almost all gold Cuban link chains are designed to appear yellow. Copper is used to producing rose gold chains and nickel, manganese, or palladium is utilized in the production of white gold products. 
What Is The Best Chain Size?
The diameter of Cuban link chains varies, with the quality of the chains taking precedence. It's not unusual to see regular individuals aiming high on the size scale when we observe hip hop stars like Jay Z and Reggaeton artists such as Daddy Yankee wearing enormous gold Cuban necklaces weighing more than 10 pounds. How big of a chain should you purchase to appear cool if impressing your neighbors isn't your life's work?
The length of the Cuban link chain is up to you, although we recommend wearing several, smaller chains rather than a single, huge "kilo" chain.
The majority of the chain is made up of 10-millimeter links, weighing roughly 130 grams each. Unlike the ten-kilogram neck-breaking necklace that Daddy Yankee displayed at his show, this one weighs just 10 kg!
When it comes to Cuban link chains for guys, the rule is 8 to 12mm and 5 to 8mm for ladies. When it comes to Men's Cuban links, 18 to 22 inches is a good length, while 16 to 18 inches is ideal for women. This is a suggestion for those who still want to look fashionable, of course not for people who want to stand out!
Gold Or Diamonds?
The next step in deciding which type of Cuban link is best for you is selecting the finish. This depends largely on personal taste, but there are some criteria to consider.
Gold chains are incredibly popular right now, and the bright hue of this metal looks fantastic with all sorts of clothing, especially black. Gold chains are also generally better suited for pendants than other metals, so if you want to wear religious medals or lockets for your loved ones, gold links may be a bit more appropriate with your personal touch.
10k, 14k, Or 18k Gold?
When buying a Cuban link chain, one of the things to consider is its gold purity. The higher the gold purity (or the higher the number of "K's") employed in its production, the more expensive the Cuban link chain becomes.
A 10k Cuban link chain has less than 50% gold in it, whereas an 18k gold chain is made up of 75% pure gold. The higher purity of the 18k chain explains why it costs about 60% more than the 10k one.
We propose a minimum of 14 – 18 karat gold. Despite our advice to use a 14k gold Cuban link as a happy medium, customers who are concerned about price may instead choose a 10k gold chain.
The Most Important Quality To Look For In A Cuban Link Chain
When it is a matter of price, a 10k chain will be less expensive than a 14 or 18k one. However, if you're looking for a low-cost chain, don't let your budget lead you to poor quality!
While it's fine to go with a 10k gold chain if the price is one of your primary goals, lower purity does not have to equal lesser workmanship. In fact, when it comes to obtaining a high-quality Cuban link, we emphasize the importance of seeking quality above all else.
Where Can You Find High-Quality Cuban Chains?
It's preferable to have one great Cuban chain rather than a lot of mediocre ones. Many individuals believe that in order to obtain the greatest things, you need to spend a lot of money on real gems or metals. However, if you know where to look, you may receive higher-quality jewelry for a fraction of the price.
Because of its scarcity and the difficulty in extracting it, pure gold is more costly. And diamonds are only valuable because of their history, so why pay such a high price when you don't have to? The cost has nothing to do with the quality of the substance itself; therefore, why spend so much if you don't have to?
19mm Diamond Prong Cuban 18k Gold
Inexpensive alternatives to solid gold Cuban chains include gold plating or vermeil. These incorporate real gold as well as other high-quality metals in order to make them more affordable while still maintaining excellence. In fact, many jewelers claim that vermeil is easier to keep due to its significantly lower price.
Diamond simulants can also be used to improve a gold-plated chain without putting you into debt. Cubic zirconia (CZ) diamonds may be shaped in the same way as diamonds, and they are cut in the same manner. In comparison to hard-to-find diamond stones, CZ crystals have superior characteristics including improved color and fewer flaws.
Sleek Style
Cuban chains are a fantastic method to stand out, but you'll want to make sure you're wearing one correctly so that you're enhancing your appearance rather than detracting from it. Knowing which chain types are fashionable at the moment is one approach to achieve this.
You'll need shorter chains with thicker widths for strength and length, as well as larger diamonds. You could also make these enormous chains stand out by adding some huge diamonds to each. Finally, consider choosing some rose gold plated touch that set your chain unique from others.
To know more about what is Cuban chain click here.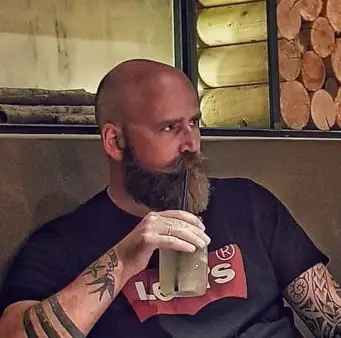 Thomas Boseman is the author of Pawnbroking.com. A pawn shop owner by day, blog writer by night. When not writing, he enjoys exploring the outdoors with his dog, Roman. Thomas received his bachelor of arts in film from the University of Arizona. A Brooklyn native, Thomas is a lover of filmmaking, motorcycle, and coffee.